Sandra
About me
(unverified, not certified)
I am an Incoming Travel & Corporate Events professional. Portugal is my loving business and Travel is my passion. Looking forward to learn and share travel experiences and tips with people…
Female
I'm interested in promoting my business, share my travel expertise, find new friends, networking (b2b) and learn online marketing.
My Deals and Offers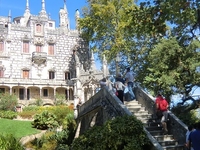 view details
Let us show you some of the most beautiful Portuguese…
Additional Info
Tourism and Real Estate Business Developent Manager in the Western Europe - The link to the best portuguese partners for Real Estate Services, Property Management, Tourism & Concierge Services
With perfect tourist spots, great prices, friendly people, local food, relatively good weather and Portugal won, in 2014, for example, a total of 19 World Travel Awards. With a unique and strategic location in Europe, so much can be said. Just ask me .
Business Travellers, Adventure Travellers, Travel Groups, Independent Travellers
sandra.gouveia@meetinctravel.pt
English, French, Portuguese
My Reviews & References

Sandra shows outstanding dedication to the customer, goes beyond what's expected and assures perfect experiences. She has a broad network of partners which allow her to provide excellent value for money in her proposals. Her dedication in pre- and post-sales is remarkable. She knows all details of the travel, tourism, hospitality, incentive and event business, from the hands-on administrative all the way up to the senior management relationships and business aspects. Her track record of satisfied and returning customers is proof of that.