Jose Geraldo
About me
Contatar pessoas que queiram se hospedar em ponta da Fruta, Vila Velha - ES Brasil
45 yrs, Male, Single

Servidor Público

1 year ago in Brazil
No Reviews or References Yet!
Do you know this member? If you have taken a trip or used their services we recommend you give a reference whether its positive or negative. This will help everyone on Touristlink make better choices and will help providers to make improvements based on your feedback.
I'm interested in promoting my business, share my travel expertise, find new friends and networking (b2b).
My Deals and Offers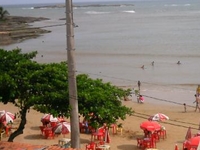 view details
Pousada simples de frente para o mar com algumas…
Additional Info
Servidor público. Más ajudo um amigo a divulgar uma pousada na praia Ponta da Fruta que fica no sul de Vila Velha - ES.
Entre Vitória e Guarapari existem belas praias como Curva da Jurema em Vitória; Praia da Costa, Itaparica, Barra do Jucu e Ponta da Fruta em Vila Velha, Setiba, Praia da Cerca, Praia do Morro, Namorados, Peracanga e Bacutia em Guarapari. Todas próximas.
Spanish