Daniel Wakra
About me
(unverified, not certified)
In bound Tour Operator in Papua New Guinea
22 yrs, Male, Single

Tour Guide

2 years ago in Port Moresby, National Capital District (port Moresby), Papua New Guinea
No Reviews or References Yet!
Do you know this member? If you have taken a trip or used their services we recommend you give a reference whether its positive or negative. This will help everyone on Touristlink make better choices and will help providers to make improvements based on your feedback.
My Deals and Offers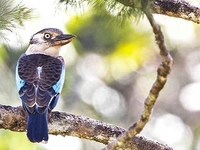 view details
Bird watching and Photographing Birds Of Paradise in Papua…
Additional Info
I am a local tour guide in Papua New Guinea
Bird Watching/Photographing/Filming, Cultural Adventures, Diving, Mountain Climbing, Trekking and many more other special tours offered.
All my clients enjoy my guiding services.
English