Ali Ürüm
About me
So the tourists in my guided tours say, I am "a very well experienced and knowledgeable professional tour guide" and travel organizer in all regions and cities of Turkey, the country of natural and…
71 yrs, Male, Married

Professional Tour Guide and Travel Organizer

1 year ago in Alanya, Antalya, Turkey
No Reviews or References Yet!
Do you know this member? If you have taken a trip or used their services we recommend you give a reference whether its positive or negative. This will help everyone on Touristlink make better choices and will help providers to make improvements based on your feedback.
I'm interested in promoting my business, share my travel expertise, find new friends and networking (b2b).
My Deals and Offers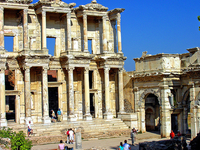 view details
You can enjoy West Turkey tours where you can visit…
Additional Info
I have experiences and knowledge about historical, cultural, geographical ethnological identity of Turkey for cultural tours. I speak German and English very fluently and French,little Arabic. I have guided tours all over the regions of Turkey.
Tourists were very happy about the tours which I had guided in Turkey.
Cultures, nature and history and civilizations interested
all kinds and countries' tourists
English