About owner

Nguyen Nhung
Rank: 33
Joined: November 2016
C-VIETNAM is a private local travel company with fully international travel license; we are…
44 yrs, Male, Married

Marketing Manager

3 days ago
About
Ro 203, 2nd floor, B1, Alley 40 Trung Kinh Road, Trung Hoa, Cau Giay district,

,

Hanoi

,

100000

,

Vietnam
C-Vietnam.com is a private local travel company with fully international travel license; we are absolutely a reliable local tour organizer who specializes in customized, private tours to group tours, from easy grade to moderation and hard adventure throughout Vietnam, Laos, Cambodia and lately Myanmar. Our Dynamic and experience team has archived a high proficiency of foreign languages. 
Since dedicated for our tour organization, all are well training with full inspiration for travel, solidarity side by side at work combine with solid internal management all target on one goal are  making every single journey of clients are enjoyable. Based on proper travel definition and business direction, our company's goal is putting best effort for keeping reputation by offering best trip cross Indochina region with a good service quality and affordable price. With conception about existence and development is always change and creative to make new tour productions. Our enthusiasm and passion inspire us to pioneer new routes and destinations for our customers to enjoy their journeys as a life enriching experience, not just a simply stay somewhere.
No Reviews or References Yet!
Do you know this member?
If you have taken a trip or used their services we recommend you give a reference whether its positive or negative. This will help everyone on Touristlink make better choices and will help providers to make improvements based on your feedback.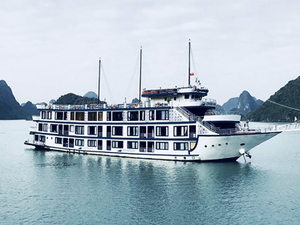 sponsored
sponsored