William Cook
About me
(unverified, not certified)
Male, Married

10 months ago in Bryanston, Gauteng, South Africa
No Reviews or References Yet!
Do you know this member? If you have taken a trip or used their services we recommend you give a reference whether its positive or negative. This will help everyone on Touristlink make better choices and will help providers to make improvements based on your feedback.
I'm interested in promoting my business.
My Deals and Offers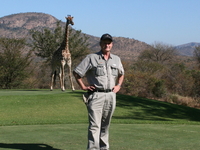 view details
Get that "out of Africa" Golf feeling when playing at…
Additional Info
The highlights in my area are the Greater Kruger National Park, Cape Town, Sun City, Okavango Delta, Chobe, Botswana, Victoria Falls and Etosha National Park, Namibia.
My goal is to bring people and places together. I enjoy travellers who enjoy watching wildlife, golfing, fishing and adventure.
English