Vivien Bukovenszki
About me
(unverified, not certified)
I would like to make tasted Hungarian traditional open fired cooking with our guests.
39 yrs, Female, In a relationship

Www.visitvivishungary.hu
No Reviews or References Yet!
Do you know this member? If you have taken a trip or used their services we recommend you give a reference whether its positive or negative. This will help everyone on Touristlink make better choices and will help providers to make improvements based on your feedback.
I'm interested in promoting my business, networking (b2b) and learn online marketing.
My Deals and Offers
view details
It occurs in most of the families that somebody ask: Who…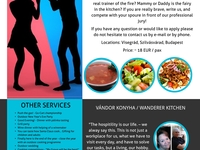 view details
It occurs in most of families that somebody asks: Who is…
Additional Info
My Dear Friends, I am Vivien, the marketing and sales manager of Visit Vivi's Hungary. We decided to make tasted Hungarian tradicional open air cooked dishes with guests who are visiting Hungary. I hope you will be our guest, too. Write me if you need help
As I live in the capital of Hungary, Budapest, I think most of you know this wonderful city. Beside this I would like to show our guests other beautiful places, such as Balaton, Eger, Szilvásvárad, Danube Bend etc. Hungary is a beautiful country...
We love guests who are interested in the culture of the visited country.
English