Viva Tours
About me
(unverified, not certified)
For Viva Peru Tours is very important to provide excellent service to our customers helping them to interact with local people and introducing them both: the cultural and natural beauties of Peru…
38 yrs, Male, Single

Travel Advisor
No Reviews or References Yet!
Do you know this member? If you have taken a trip or used their services we recommend you give a reference whether its positive or negative. This will help everyone on Touristlink make better choices and will help providers to make improvements based on your feedback.
My Deals and Offers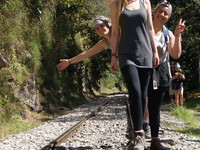 view details
There's no other route to Machu Picchu more diverse and ad…
Additional Info
Viva Peru Tours is Peruvian-owned adventure travel tour operator that works with exertion and dedication in order to provide our customers the opportunity to see the wonders of Peru; we are located in Cusco – Peru; the historical capital of the Incas.
We are proud to offer quality outstanding personalized service and tours, outdoor camp trips especially to Lares trek at affordable rates.
To continue offering a service of quality, that it does not have to be necessarily expensive, with a great human trained group and using high standard and comfortable camping equipment to our customers.
English, German, Spanish