Tourist Angel
About me
(unverified, not certified)
We are a team of enthusiastic local tour guides offering guided sightseeing tours in Budapest for groups and individuals in several languages, including English, French, German, Italian, Russian and…
1 year ago in Budapest, Budapest, Hungary
No Reviews or References Yet!
Do you know this member? If you have taken a trip or used their services we recommend you give a reference whether its positive or negative. This will help everyone on Touristlink make better choices and will help providers to make improvements based on your feedback.
I'm interested in promoting my business, find new friends and just curious.
My Deals and Offers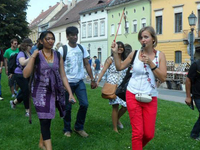 view details
A walking tour in the twin cities Pest and Buda. You will…
Additional Info
Tourist Angel is a team of professional tour guides in Budapest. We combine conventional tour guiding with fun, cultural programs, arts, music and theatre.
Budapest, monuments, history, Hungarian cuisine, culture, fun
Individual travellers, groups, open-minded people who like to explore, families, seniors, student groups on school excursions or university trips.
English, French, German, Hebrew(formerlyiw), Hungarian, Italian, Polish, Portuguese, Russian