Ketut Sukanada
About me
relaxing
49 yrs, Male, Married

Group Operation Manager of Samaja Villas Bali

2 years ago in Asia/pacific Region
No Reviews or References Yet!
Do you know this member? If you have taken a trip or used their services we recommend you give a reference whether its positive or negative. This will help everyone on Touristlink make better choices and will help providers to make improvements based on your feedback.
I'm interested in promoting my business, find new friends, networking (b2b) and learn online marketing.
My Deals and Offers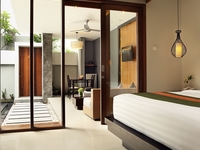 view details
Get 50% discount from our normal rates Or our best…
Additional Info
Over 20 years experience in hotel industry and now work as Operation Manager at Samaja Villas in Seminyak, Bali. Villas accommodation is generally a more affordable option in comparison to staying in a hotel room of the same calibre with best privacy.
Attraction: shopping, culinary, spa, water sport, culture, art, etc
English