Tibetantravelagency
About me
(unverified, not certified)
I always wonder how the travellers in Tibet visit or understand those traditions of different regions. With many years of training to our team workers, we are really looking forward to give more…
33 yrs, Male, Married

Travel Agency
No Reviews or References Yet!
Do you know this member? If you have taken a trip or used their services we recommend you give a reference whether its positive or negative. This will help everyone on Touristlink make better choices and will help providers to make improvements based on your feedback.
I'm interested in promoting my business, share my travel expertise, find new friends, networking (b2b) and learn online marketing.
My Deals and Offers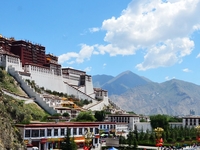 view details
Shigatse prefecture corresponds roughly to the historic…
Additional Info
I always wonder how the travellers in Tibet visit or understand those traditions of different regions. With many years of training to our team workers, we are really looking forward to give more detailed informations about any topics which has relevant
We are able to obtain all the necessary permits and other relevant documents on time to gain easy access to all the destinations or touristic site. We also arrange tours to other regions. We are always happy to serve you !
English, Mandarin Chinese, Tibetan