Pedro Guide
About me
Main goal here is to enjoy the things that I do.
32 yrs, Male, In a relationship

Tourist Guide

1 year ago in San Rafael, San Jose, Costa Rica
No Reviews or References Yet!
Do you know this member? If you have taken a trip or used their services we recommend you give a reference whether its positive or negative. This will help everyone on Touristlink make better choices and will help providers to make improvements based on your feedback.
I'm interested in promoting my business and networking (b2b).
My Deals and Offers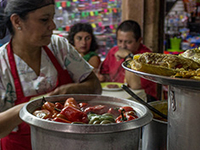 view details
Highlights: Walking around San José and getting to know…
Additional Info
Pedro is a life enthusiast who enjoys sharing the Costa Rican beauties and culture with others. He started working in ecoturism 8 years ago, offering his services as a private naturalist guide, bringing visitors closer to Costa Rica's treasures.
Costa Rica is the country with the highest density of biodiversity in the world, that's why here you can see a lot in a short period of time. Waterfalls, culture, music, landscapes, food and a peaceful feeling, also are things that make my country bigger.
Anybody who really want to discover the real thing about the place, where is going to visit.
English, Spanish