Tes Chhaya
About me
(unverified, not certified)
Promote my business, interest the visitors about local culture, history and ancient temples in Angkor Archeological Site.
46 yrs, Male, Married

Excellence of tours arrangement in Angkor National Park,

8 months ago in Hanoi, Ha Noi, Vietnam
No Reviews or References Yet!
Do you know this member? If you have taken a trip or used their services we recommend you give a reference whether its positive or negative. This will help everyone on Touristlink make better choices and will help providers to make improvements based on your feedback.
I'm interested in promoting my business, share my travel expertise, find new friends, networking (b2b) and learn online marketing.
My Deals and Offers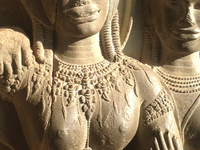 view details
Visit the most famous Angkor Wat, that is one of the seven…
Additional Info
tour guide is my favorite job, i like communicating with people exchange experience.
there are several ancient temples in Siem reap, those are very interesting that you can spend days to explore them. other thing to see is Fishing village on Tonle Sap lake, this trip is a countryside sightseeing to find out the everyday life of locals.
all kinds of travelers are welcomed.
English