Tayce Gilbert
About me
(unverified, not certified)
Bridge of the World is a TURSAB registered Turkey Travel Agency located int he heart of Cappadocia, Goreme. We operate local tours and activites along with full Turkey travel itineraries.
33 yrs, Female

Owner/Operator
No Reviews or References Yet!
Do you know this member? If you have taken a trip or used their services we recommend you give a reference whether its positive or negative. This will help everyone on Touristlink make better choices and will help providers to make improvements based on your feedback.
I'm interested in promoting my business, share my travel expertise and learn online marketing.
My Deals and Offers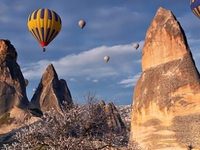 view details
Your Hot Air Balloon ride experience starts before sunrise…
Additional Info
BOTW's Operations Manager, Tayce is from Australia. After finishing High School Tayce completed a Certificate III in Travel and Tourism at the Australian Business Academy and holds both an AFTA (Australian Federation of Travel Agents) and IATA (Inte
Valleys and rock formations of Cappadocia
Underground Cities going 18 levels underground
Rock cut churches with 8th century frescoes
Independent travellers who are looking for a bit of guidance, I like people to feel free on their holidays, not rushed and transported around like sardines
English, Turkish