Sineta George
About me
I am a single woman and run an English speaking B&B, Tourism, African drumming & Language program in Francophone West Africa! I also run an Airport Pickup Service and Single Steps, discounted guide…
Female, Single

B&B, Group Tours, African Drumming & French
I'm interested in promoting my business, share my travel expertise, find new friends, networking (b2b) and learn online marketing.
My Deals and Offers
view details
This is a recently published public review from…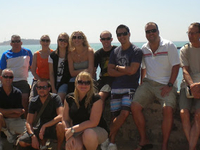 view details
Highly rated on TripAdvisor, this is what has earned me…
My References
(No Reviews Yet.)

This is the same review I posted on Tripadvisor for SenegalStyle tours:
No way I would get on a motorscooter with her but their car tour is the best!
I have traveled all over the world and now that I'm older my walking abilities are limited BUT I have to say that doing a city tour with Sineta and her driver was the most positive one I have ever had. They are very kind and patient and helped me in and out of the car with no problems. I like to take pictures, even if i'm not very good but they slowed down or stopped at every single coconut tree in town so I could get a shot with no problem! If you like nice people and don't like rushing about and experience and live like the locals, take a taxi, hire Sineta and have a good time! I also went to the African drumming class the teacher spoke good English and they used several different drums. When they were done the band had a practice with African dancers too. I've never seen anything like it in real life. It was great!
- Joyce Bennett,
Positive