Virgin Expedition
About me
(unverified, not certified)
With the intention of providing the clients (tourists) with the most comfortable and fulfilling travelling experience, at V.N.T.E, we are offering bulk of services at very reasonable charges. Making s…
29 yrs, Male
No Reviews or References Yet!
Do you know this member? If you have taken a trip or used their services we recommend you give a reference whether its positive or negative. This will help everyone on Touristlink make better choices and will help providers to make improvements based on your feedback.
I'm interested in promoting my business.
My Deals and Offers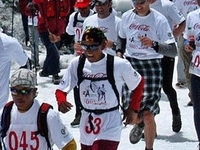 view details
Everest Base Camp trek is special package trek of Virgin…
Additional Info
With the intention of providing the clients (tourists) with the most comfortable and fulfilling travelling experience, at V.N.T.E, we are offering bulk of services at very reasonable charges. Making sure that all the requirements of clients such as accommo
Nepal, Bhutan, Tibet and India.
Trekking & Climbing !....
Most of outdoor activities I use to enjoy....,
English, Hindi, Mandarin Chinese, Nepali