Naree Kunmueang
About me
(unverified, not certified)
Take care of my family
49 yrs, Female, Married

Business-woman
No Reviews or References Yet!
Do you know this member? If you have taken a trip or used their services we recommend you give a reference whether its positive or negative. This will help everyone on Touristlink make better choices and will help providers to make improvements based on your feedback.
I'm interested in networking (b2b).
My Deals and Offers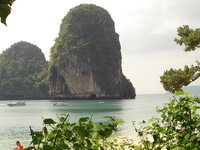 view details
Private southern Thailand discovery trip. Feel and smell…
Additional Info
Mother, wife, nature -and people-lover.
World Heritage Site Phang Nga Bay, the Phi Phi Islands and the whole area between Phuket and Samui: Krabi, Khao Sok N.P. and Phang Nga province.
More than 20 years experience in travel and hospitality in (southern) Thailand.
114 Moo 1, Kathu, Phuket
English