Moroccomountainbike
About me
We are a Moroccan company that has been operating since 1995 and are proud to offer you an authentically Moroccan experience. We make all the arrangements and then show you the real essence of…
42 yrs, Male, Married

5 months ago in Agadir, Souss-massa-draa, Morocco
No Reviews or References Yet!
Do you know this member? If you have taken a trip or used their services we recommend you give a reference whether its positive or negative. This will help everyone on Touristlink make better choices and will help providers to make improvements based on your feedback.
I'm interested in promoting my business.
My Deals and Offers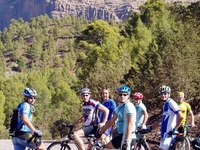 view details
Biking tours in high atlas morocco. Daily Tours In The…
Additional Info
We are a Moroccan company that has been operating since 1995 and are proud to offer you an authentically Moroccan mountain biking experience.
We make all the arrangements and then show you the real essence of our country.
The fascinating combination of natural attractions, endearing towns, historical, cultural and recreational services work together to create a beautiful concert of natural beauty to satisfy even the most seasoned travellers.
We pride ourselves in being able to cater to the advanced technical rider, with access to single-track trails that take advantage of challenging terrain and panoramic vistas. « Come and join us in one of our spectaculars adventures… »
Av Hassan II, Res banine, apart n°11, 4 eme Etage, Gueliz, 40000 Marrakech- Morocco
English