Monika Czerveniak
About me
forever searching and seeking fresh healthy and simple foods all over the world and organizing tours of my finds
67 yrs, Female, In a relationship

Tour organizer and foodie of SE ASIA

1 year ago in Thailand
I'm interested in promoting my business, share my travel expertise, find new friends, networking (b2b), learn online marketing and just curious.
My Deals and Offers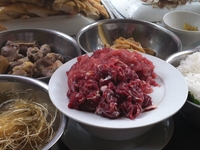 view details
Start in Hanoi with taking the mystery out of the Street…
Additional Info
I detest processed and prepared food. It is my passion to try to educate people to care about what they eat and how their food is made. ChowdownVietnam Tour is all about simple foods-culture-and fun.
www.crapfoodbites.wordpress.com
Food - Biking- Cooking- Vietnam
Unpretentious foodies with loads of appetite for adventures and new experiences-the simple way.
English, German
My References
(No Reviews Yet.)

I had the privilege of experiencing the "Chow Down Tour" last September. Everything was taken care of and I enjoyed every minute. The cooking classes in both Hanoi and Hoi An were a great experience along with the Hanoi market tour. We learned a great deal and even ate silk worms ( a very sustainable and healthy food source). The "fearless" cooking class in Hoi was located right on the beautiful An Bang beach. It was fun to sit and eat lunch with the waves as our back drop. For me the most exciting experience, and there were many, were the bike tours through Hoi An and neighbouring islands. We loaded our bikes on the local ferry and then biked villages that make straw matts, tofu, rice paddies and in every village the children would come out to great us. Many evenings were spent at the Soul Kitchen, on the beach , listening to live music while the colourful lanterns flickered above and the waves crashed onto the beach. Magical indeed!
- Jean-ann Robinson,
Positive

I joined Monika in Hanoi, Vietnam for her Chowdown Vietnam food related tour. It was a fabulous way to connect with the people and the foods of the country. Monika is very knowledgeable having been in the food business in multiple countries throughout her life. Her passion for the food and people of Vietnam come across in every aspect of our 2 week tour with her. We had an eating tour of the market in Hanoi, which was on my list as one of the favourite things we did, but we also participated in cooking classes, visited farms where vegetables were grown where we had a chance to help plant rice, a beautiful tour of the Mekong and the floating market, tasted our way through many different old and new restaurants just to name a few highlights. To top it off we hopped on bicycles and made our way through many villages which gave us the chance to see how the locals prepare and bring their wares to market. What a fun way to discover all that Vietnam has to offer.

Thanks, Monika!
- Anne Langhout,
Positive