Clickferry
About me
Clickferry.com, el mejor buscador de ferry en tiempo real.En Clickferry.com encontrará los mejores precios de Ferries para viajar con las principales compañías navieras como Acciona, Balearia, Fred…
8 yrs, Female

Agente de viajes

1 year ago in Spain
No Reviews or References Yet!
Do you know this member? If you have taken a trip or used their services we recommend you give a reference whether its positive or negative. This will help everyone on Touristlink make better choices and will help providers to make improvements based on your feedback.
I'm interested in promoting my business, share my travel expertise, networking (b2b) and learn online marketing.
My Deals and Offers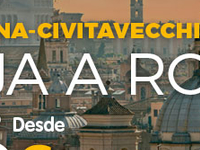 view details
Ahora puedes disfrutar de la fabulosa ciudad de Roma…
Additional Info
Clickferry.com, el mejor buscador de ferry en tiempo real
En Clickferry.com encontrará los mejores precios de Ferries para viajar con las principales compañías navieras como Acciona, Balearia, Fred Olsen y otras líneas europeas siempre con el precio mínim
Puerto de Málaga, Caminito del Rey, Museo Picasso, Museo Pompdou, Calle Larios, Balneario Baños del Carmen,...
Familias, grupos, parejas
Spanish