Maddy Torney
About me
Promote tourism in Egypt to provide work for the locals.
69 yrs, Female

De Panne
No Reviews or References Yet!
Do you know this member? If you have taken a trip or used their services we recommend you give a reference whether its positive or negative. This will help everyone on Touristlink make better choices and will help providers to make improvements based on your feedback.
I'm interested in promoting my business.
My Deals and Offers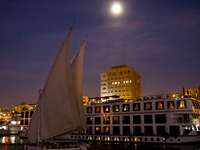 view details
Discover the Nile Valley by felucca. Visit Esna, Edfu,…
Additional Info
Promote tours and trips by locals.
The Temple of Luxor The Temple of Karnak Valley of the Kings, Valley of the Queens, Valley of the Nobles Medinat Habu Deir el Bahri: the Temple of Hatchepsut Deir el Medina: the village of the workers All the sites in the Nile Valley
Traveling in Luxor and Aswan. The Nile Valley.
Dutch, English, French