Liga Vanaga
About me
(unverified, not certified)
Love and enjoy Baltic states - Latvia, Lithuania and Estonia - for real! We do our business with love and passion and offer each and every traveler unforgettable local and authentic experiences.
39 yrs, Female

Tour Manager & CEO
No Reviews or References Yet!
Do you know this member? If you have taken a trip or used their services we recommend you give a reference whether its positive or negative. This will help everyone on Touristlink make better choices and will help providers to make improvements based on your feedback.
I'm interested in promoting my business, share my travel expertise and networking (b2b).
My Deals and Offers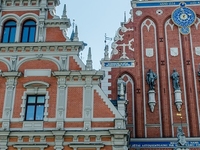 view details
Explore and discover Old Riga, Art Nouveau and Central…
Additional Info
English, Latvian, Lettish, Russian