Leftcoasttours
About me
(unverified, not certified)
To be a very reliable tour company that people enjoy.
62 yrs, Male, Single

Tour operator

2 years ago in Berkeley, California, United States
No Reviews or References Yet!
Do you know this member? If you have taken a trip or used their services we recommend you give a reference whether its positive or negative. This will help everyone on Touristlink make better choices and will help providers to make improvements based on your feedback.
I'm interested in promoting my business.
My Deals and Offers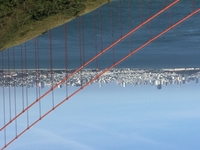 view details
THREE HOUR city tour featuring the best tourist spots.
Additional Info
I am an ex taxi driver who decided that it would be fun to show our many tourists the great sights of San Francisco. Our Tour company features old school Taxi drivers who love to show you all the
great sights of San Francisco from an insiders view.
Fort Point, Lombard St, Vista Point, Muir Woods, Wine Country, Painted Ladies, Twin Peaks, Castro, Haight Ashbury, Nob Hill, China Town, the Barbary Coast, Northbeach, The Presidio, Sausalito
we love everybody. We get tourists from all over the world. We have met people from every continent. We get couples, Families single people old young and we love them all and love having therm.
English, German, Japanese