Kaychefs
About me
(unverified, not certified)
The promotion of Haiti, food, culture and scenic destinations
28 yrs, It's complicated

Events
No Reviews or References Yet!
Do you know this member? If you have taken a trip or used their services we recommend you give a reference whether its positive or negative. This will help everyone on Touristlink make better choices and will help providers to make improvements based on your feedback.
I'm interested in promoting my business, share my travel expertise and networking (b2b).
My Deals and Offers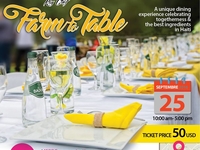 view details
Food and adventures for the entire family. Come explore…
Additional Info
Kay Chefs is a unique entity; we are a group of young Haitian professionals mostly Chefs and traveling industry professional. Our mission is to promote, showcase the beauty of Haiti thru foods, destination traveling.
Farm to Table Haiti
Sea to Table Haiti
Guess Who's Cooking
Castaway
English