Open Africa Safaris
About me
To position Open Africa Safari's as the preferred safari specialist in Tanzania offering superior experiences and world-class service.
9 yrs, Male, Single

Owner of Open Africa Safaris

8 months ago in Hazleton, Pennsylvania, United States
No Reviews or References Yet!
Do you know this member? If you have taken a trip or used their services we recommend you give a reference whether its positive or negative. This will help everyone on Touristlink make better choices and will help providers to make improvements based on your feedback.
I'm interested in promoting my business, share my travel expertise, find new friends, networking (b2b) and learn online marketing.
My Deals and Offers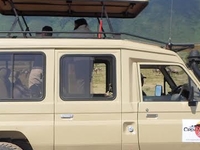 view details
The package contain Safari to Northern national parks,…
Additional Info
Open Africa Safaris is a Tanzanian-owned tour company, operating the business from our main office in Arusha, Tanzania.

Open Africa Safaris offers unique custom safaris for very reasonable prices. We offer trekking, beach holidays, and cultural excu
English