Mj Uganda
About me
To provide professional quality tours,safaris and guiding services in Uganda and the East African region at large. Mj Safaris Uganda Offers tailor made tour packages and customized safaris suitable fo…
38 yrs, Male

TOUR OPERATOR

4 months ago in Kampala, Kampala, Uganda
No Reviews or References Yet!
Do you know this member? If you have taken a trip or used their services we recommend you give a reference whether its positive or negative. This will help everyone on Touristlink make better choices and will help providers to make improvements based on your feedback.
I'm interested in promoting my business, share my travel expertise, find new friends, networking (b2b) and learn online marketing.
My Deals and Offers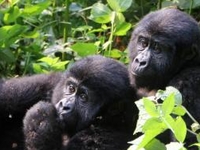 view details
THREE DAYS GORILLA TRACKING. DAY ONE ROAD TRIP TO BWINDI…
Additional Info
Am a professional tour guide in Uganda and founder of Mj Safaris Uganda a tour and travel company fully registered with the government of Uganda.
Gorilla tracking in Bwindi impenetrable forest national park, White water on the Nile, Cultural tours, Wildlife safaris to Murchison falls national park, Queen Elizabeth national park and Kidepo valley national park.
I deal with all kinds of tourists.
English, Italian, Spanish, Swahili