Francisco Souza
About me
I am passionate about sharing the beauty of exotic Goa with intrepid travelers through my hands-on photography walking tours. I teach easy to learn photography skills while exploring authentic…
47 yrs, Male, Married

Travel Photographer

Goa

9 months ago in Canacona, Karnataka, India
No Reviews or References Yet!
Do you know this member? If you have taken a trip or used their services we recommend you give a reference whether its positive or negative. This will help everyone on Touristlink make better choices and will help providers to make improvements based on your feedback.
I'm interested in promoting my business and share my travel expertise.
My Deals and Offers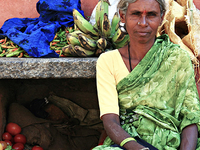 view details
I've met a lot of people while travelling who admit to me…
Additional Info
I am a professional travel photographer from the United Kingdom living in Goa, India.
To help others uncover the diverse and enriching photography opportunities Goa has to offer I've created a unique series of travel photography walking tour which are popular with photography enthusiasts from all over the world.
Easy going travelers who are keen to explore to local side of India and have authentic travel experiences off-the-beaten track and away from the usual tourist trail.
English