Explorsierra
About me
(unverified, not certified)
Safety, quality and happiness
24 yrs, Male

1 year ago in Ecuador
No Reviews or References Yet!
Do you know this member? If you have taken a trip or used their services we recommend you give a reference whether its positive or negative. This will help everyone on Touristlink make better choices and will help providers to make improvements based on your feedback.
I'm interested in promoting my business.
My Deals and Offers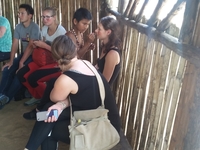 view details
Do you want to know the jungle? Live the adventure for a…
Additional Info
Operadora de turismo con más de 20 años de experiencia ubicada en una de las ciudades mas turísticas del Ecuador, ofrecemos viajes a nivel nacional, tu elijes, tu decides nosotros lo hacemos realidad..
Baños aventura 1 día
Baños aventura 2 días
La sierra ecuatoriana en 7 días
Deportes de aventura
English, Spanish