Eduardo Meneses
About me
We are tour services provider with vast experience in the field and special emphasis on tailor-made tours. When booking a trip abroad we're normally looking for adventure, knowledge or plain and…
53 yrs, Male, Married

Tour Guide

1 year ago in Cariamanga, Loja, Ecuador
No Reviews or References Yet!
Do you know this member? If you have taken a trip or used their services we recommend you give a reference whether its positive or negative. This will help everyone on Touristlink make better choices and will help providers to make improvements based on your feedback.
I'm interested in promoting my business and share my travel expertise.
My Deals and Offers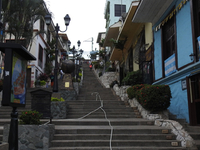 view details
City Tour of Guayaquil City known as the "Gateway to the…
Additional Info
Whatever your interest, we offer personalized assistance, both in the design of a tour and / or accompanying groups. The search of the ship that best suits your preference, the best advice for specific breeding season and / or activities is a key factor
The GALAPAGOS islands, The ANDES, The CHURUTE MANGROVES RESERVE
photography, birdwatching, history. entertainment.
English