Eatandchilltour
About me
(unverified, not certified)
Create magical Gourmet Experience to travellers
8 months ago in Ciral, Normandie, France
No Reviews or References Yet!
Do you know this member? If you have taken a trip or used their services we recommend you give a reference whether its positive or negative. This will help everyone on Touristlink make better choices and will help providers to make improvements based on your feedback.
I'm interested in promoting my business and networking (b2b).
My Deals and Offers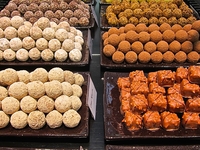 view details
A 3 hour Gourmet Food tour in Geneva, including…
Additional Info
EAT & Chill tour is the first Food tour in Geneva, step into the Gourmet universe of one of the best gastronomic address in Geneva. EAT & Chill tour is more than a tour, it's a tasty moment, it's a RDV with our passionate partners, an entertaining time !
Food tour - Cheese and Honey tasting, Terrific Wine tasting, Delicious Tapenade and olives product, Fine Chocolate, the great pastries etc ...
English