Lily Trang
About me
Vietnam travel guides + 84 967915341 (whatsapp)
27 yrs, Male

Vietnam Hotel, Tour Operator, Tour Guide

2 months ago in Hanoi, Ha Noi, Viet Nam
No Reviews or References Yet!
Do you know this member? If you have taken a trip or used their services we recommend you give a reference whether its positive or negative. This will help everyone on Touristlink make better choices and will help providers to make improvements based on your feedback.
I'm interested in promoting my business, share my travel expertise, find new friends, networking (b2b) and learn online marketing.
My Deals and Offers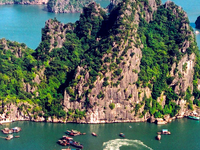 view details
Ha Long Bay – "descending dragon bay"- is one of…
Additional Info
*** IN VIETNAM, YOUR TRIP - OUR ADVICE ***
Do you plan to visit Vietnam? Do you need information about Hotel, Transport, Tour...?
Please Feel free to contact me, I am pleased to suggest you the best !!!
Hanoi - Old quater (Capital city)
Ha Long Bay
Sapa
Phong Nha national park
Hoi An Town
Nha Trang beach
Ho Chi Minh city
Mekong Dela
EVERYONE WHO WANT TO VISIT VIETNAM
English