David Urmann
About me
(verified )
To develop the best travel site.
45 yrs, Male, Married

CEO Touristlink

1 month ago
I'm interested in promoting my business, share my travel expertise, find new friends, networking (b2b) and learn online marketing.
My Deals and Offers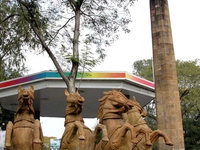 view details
See the sites of Nagpur. The best day tour of Nagpur from…
view details
We will start in downtown Santiago and take a day hike of…
Additional Info
I am the founder of Touristlink. Please send me any feedback on the website. Our goal is to connect with travelers with each other and with locals.
Everest, Nazca, Komodo, Galcier Moreno, Wind Rivers Wyoming, Southern Utah, Patagonia, India, Copper Canyon, Crimea,
If your a tour guide or travel agent ask me about how to work with Touristlink.
Great conversations
English