Cubaoutings
About me
(unverified, not certified)
We are a tours company based in Cuba that mainly develops personalized sightseeing tours and excursions. We show people from all over the world our beautiful country. You have the opportunity to…
6 yrs

Tours Operator

1 year ago in Havana, La Habana, Cuba
No Reviews or References Yet!
Do you know this member? If you have taken a trip or used their services we recommend you give a reference whether its positive or negative. This will help everyone on Touristlink make better choices and will help providers to make improvements based on your feedback.
I'm interested in promoting my business.
My Deals and Offers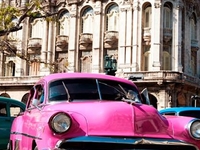 view details
Havana is such a beautiful city. Full of architecture,…
Additional Info
Cubaoutings is a tours company based in Cuba that mainly develops personalized sightseeing tours. We show people from all over the world our beautiful country. With us you have the opportunity to know Cuba as a local, which is the best way to explore Cuba.
Sightseeing tours, Private Tours, Guided tours, Exclusive tours, City tours, Travel&Tourism;, Day Tours, Round trips.
Tourists interesed in visiting Cuba, its most attractive places, its nature, people, culture, history, traditions, art, music...
English, French, German, Italian, Spanish