Cretassic
About me
(unverified, not certified)
Empresa Unipersonal de Turismo, con cede en Sucre Bolivia. Nuestra Misión es promocionar los Atractivos Turísticos de Sucre, y el Turismo de Aventura. Somos una Empresa Turística amigable con el me…
55 yrs, Male, Married

Gerente General " Cretassic Tours " Travel Agency

4 months ago
No Reviews or References Yet!
Do you know this member? If you have taken a trip or used their services we recommend you give a reference whether its positive or negative. This will help everyone on Touristlink make better choices and will help providers to make improvements based on your feedback.
I'm interested in promoting my business and learn online marketing.
My Deals and Offers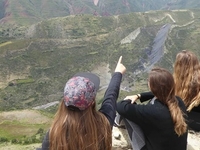 view details
Meet in a full day, in a tour of 2 days and 1 night,…
Additional Info
Gerente y Propietario de Agencia de Turismo y Tour Operador en Sucre Bolivia.
Tours al SALAR DE UYUNI, de 3 dias y 2 noches de 2 días y 1 noche y Tour Full Day en el Salar de Uyuni Bolivia.
Tours de Trekking por la Cordilñlera de los Frailes de la CULTURA JALKA. Tours Extremos de 4 dias 3 noches, 3 dias y 2 noches, y Full Day .
Todos nuestros turistas disfrutan del Trekking, City, y actividades extremas.
English, French