Christopher Bianco
About me
(unverified, not certified)
The main mission of Romerica Tours is to showcase the absolute beauty of Romania.
Male

Owner/operator of Romerica Tours/Discover Romania
No Reviews or References Yet!
Do you know this member? If you have taken a trip or used their services we recommend you give a reference whether its positive or negative. This will help everyone on Touristlink make better choices and will help providers to make improvements based on your feedback.
I'm interested in promoting my business and networking (b2b).
My Deals and Offers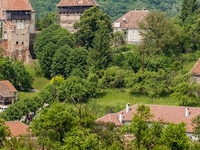 view details
On our Village Retreat tour we will visit some, including…
Additional Info
My wife and I are the owners of www.romericatours.com
Romerica Tours takes small groups(10-15 people) to the heart of Romania. With our village retreat tour coming up in June 2017. Book your trip with us.
Visits and lodging in medieval villages, some that date back to the 12th century. Trips by horse and cart to visit shepherds and taste local cheese. Local craft classes. Stay at a guest house owned by HRH Prince Charles.
I have a genuine interest in Romania, a love for it's culture and rural traditions.
English, Romanian