Budapestguide
About me
(unverified, not certified)
Welcome dear Visitors! As a tour guide my aim is to provide an opportunity for my guests to discover Budapest and the country side according to their wishes. Let's explore the treasures of Hungary!…
40 yrs, Male
No Reviews or References Yet!
Do you know this member? If you have taken a trip or used their services we recommend you give a reference whether its positive or negative. This will help everyone on Touristlink make better choices and will help providers to make improvements based on your feedback.
I'm interested in promoting my business.
My Deals and Offers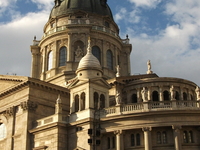 view details
I specially recommend this tour if you have short time in…
Additional Info
I graduated from History, I like to discover the secrets, the legends behind the places I visit. It is great to share experieces with others, and make them happy by a new, pleasant memory. My friends describe me as very outgoing and friendly.
Arabic, English, Hungarian