Avinoam Dor
About me
Genesis Chapter 15: 18 In that day the LORD made a covenant with Abram, saying: 'Unto thy seed have I given this land, from the river of Egypt unto the great river, the river Euphrates;
68 yrs, Male, Married

Holy Land Tours or Biblical Pilgrim program to Israel is designe

5 months ago in Petah Tikva, Hamerkaz, Israel
I'm interested in promoting my business.
My Deals and Offers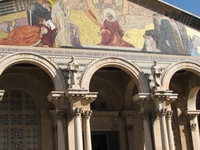 view details
Mt. Olives - Old City of Jerusalem After breakfast this…
Additional Info
Isaiah: He shall judge between the nations, and shall decide for many peoples; and they shall beat their swords into plowshares, and their spears into pruninghooks; nation shall not lift up sword against nation, neither shall they learn war any more.

To
A Holy Land Tour or Biblical Pilgrim program to Israel is designed and coordinated with you in mind to provide a biblically-oriented experience / journey, to help you discover this spiritual land, and to make your Christian pilgrimage comfortable, enjoy
Tourists, Pilgrims. Families, Business people.
English
My References
(No Reviews Yet.)

My son and I took a 10 day trip to Israel from the states. Ben was our guide for the 10 days. He was an excellent guide. He knows his history and took us to all the points of interest. He is very thoughtful. I have bad knees and he helped me up and down steps and hills. Sometimes my son would go up steps or hills I couldn't make it and he would keep me company while my son explored. We became good friends with him and have stayed in touch since coming back to the states. His personality is very likeable and he made this an unforgettable trip for us. I highly recommend his services. You will be happy you hired him as your guide..........Nancy Kingston, Newnan, Georgia.