Amada Anderson
About me
All The World's A Stage, professional licensed tour guides are gifted triple threats who weave groups around New York's bustling streets, brandishing their love of the stage and of the city !
36 yrs, Female, Married

Tour Guide/Entreprener

1 year ago in Ridgewood, New York, United States
No Reviews or References Yet!
Do you know this member? If you have taken a trip or used their services we recommend you give a reference whether its positive or negative. This will help everyone on Touristlink make better choices and will help providers to make improvements based on your feedback.
I'm interested in promoting my business, share my travel expertise, find new friends, networking (b2b), learn online marketing and just curious.
My Deals and Offers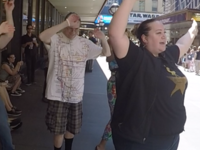 view details
Do you find yourself humming creepy tunes like the theme…
Additional Info
Tour Guide, Musical Theatre Performer, and Entreprenour
Broadway shows and Broadway walking tours with ME!
I enjoy meeting everyone!
English