About owner

Kilimanjaro Bliss
Rank: 1072
Joined: March 2018
To create exceptional experiences on Mt. Kilimanjaro an on safari in Tanzania.
57 yrs

Tour Guide

2 weeks ago in Dar Es Salaam, Dar Es Salaam, Tanzania, United Republic Of
About
Kilimanjaro Bliss Limited is a Tanzanian registered tour company, established as a joint venture. After Georgia Newsome, from Coastal Bliss, visited Tanzania to hike Kilimanjaro and take a safari in the famous Ngorogoro Crater, the two began to form the basis of the joint venture. Afterward, the two struck a plan to collaborate to form a company to provide excellent service and responsible company values to the Tanzanian adventure space. Canadian adventure company, Coastal Bliss Adventures Ltd., and Tanzanian guide, Aristarick Benard Swai partnered to form the company. The collaborative planning continued on for two years until Georgia, her partner, Gary Ward, both directors of Coastal Bliss Adventures Ltd., and Aristarick formed Kilimanjaro Bliss Ltd.
No Reviews or References Yet!
Do you know this member?
If you have taken a trip or used their services we recommend you give a reference whether its positive or negative. This will help everyone on Touristlink make better choices and will help providers to make improvements based on your feedback.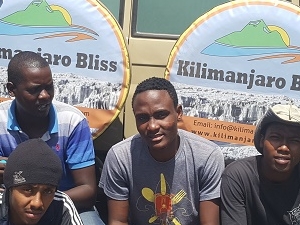 sponsored