About owner

Baraja Bernard
Rank: 11562
Joined: October 2018
Provide tourism services globally
34 yrs, Male, In a relationship

Director at It Started In Africa-Tanzania Adventures and Safaris

2 days ago in Dar Es Salaam, Dar Es Salaam, Tanzania, United Republic Of
About
New Safari Hotel Building-Boma Road - Floor No 3 - Room 421. P.O.Box 1526

,

Arusha

,

Tanzania
It started in Africa was created upon the following motto: "Every safari is a different one. Be fair, be flexible, be good - Every single time". Having said that, we specialize in designing safari itineraries that have fair prices, while not compromising on quality. If you can not afford a lodge safari, it does not mean your experience will be less interesting. Why not have the fantastic experience of camping on the Savannah underneath a starry sky? It will provide you with experiences you will never forget. On the other hand, if luxury lodges are what you had in mind, you'll be happy to know that Tanzania National parks are home to some of the most exquisite and high-end hotels in the World.
No Reviews or References Yet!
Do you know this member?
If you have taken a trip or used their services we recommend you give a reference whether its positive or negative. This will help everyone on Touristlink make better choices and will help providers to make improvements based on your feedback.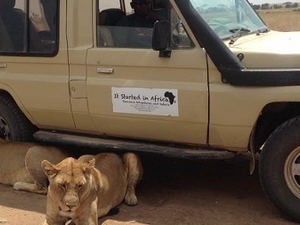 sponsored