About owner

Nature Travel Namibia
Rank: 4016
Joined: October 2016
Nature Travel Namibia is based in Namibia, specialising in personal customised safaris and birding…
2 weeks ago in Cape Town, Western Cape, South Africa
About
15 Koinseb Street

,

Windhoek

,

Namibia
Nature Travel Birding Africa and Beyond is part of Nature Travel Namibia which is a Namibian based Safari Company and we have an absolute passion for birding and exceptional knowledge of wildlife. With years of tourism experience Nature Travel is perfect is assisting you to plan and experience your dream African birding Safari or spred your wings with us and join us for an Birding safari to Spain!
We specialise in guiding and planning safaris throughout Namibia, Botswana, Zambia, Zimbabwe, South Africa, Kenya, Ghana, Uganda, Malawi and Spain. We offer guided, fly-in and self-drive safaris focussing on game viewing, cultural or birding depending on your interest.
We have a range of fixed itinerary safaris based on what has proven to be most popular safaris over the years but we are happy to change any of them into or plan a customised safari according to your interest and budget. Please don't hesitate to contact us if you have any questions.
5
5.0
0
2
Reviews & References
From

Leighanne

,

Totally blown away!
Knew the trip would be amazing due to Nick's responses to my emails whilst planning the trip - fast responses, swapped things around for us for the tailor-made trip (pleasing a group of friends flying in from opposite sides of the globe).
Kit, our local guide is an invaluable friend - he knew exactly where to find the animals, very patient for millions of elephant photo stops, and also has rather good knowledge and taste in the local vino! And met us at his local in Windhoek for a memorable last night dinner!
All of the lodges used by NTN are of the highest standard - can't fault anything!
Can't wait for the next trip!!

Oct 4, 2017

From

Karenao

,

Our adventure in Namibia was facilitated by Naturetravel Namibia. What an amazing country . Esmari planned our itinerary to give us an overview of the highest sand dunes in the world, cities surrounded by desert, ancient rock engravings and Etosha National Park for an amazing opportunity to see the animals. We opted to do a driving tour with a private driver/guide and we're extremely fortunate to have had Rodger spend 8 days with us. His knowledge of politics, animals, history, plants, geology and customs kept us alert and learning through out the trip. Some of the long drives seems a lot shorter due to lively informative discussions we shared along the way. We feel like we have a new friend in Namibia!
We did a counter clockwise loop through the country starting in Windhoek. We posed in front of 600 year old dead trees trapped in the dunes, hiked back into off road ponds of flamingos, watched thousands of seals frolicking in the ocean and nursing babies on the beach, were awed by Namibian nights skies, all the time knowing Rodger was taking care of details.
Thank you Esmari and Rodger for sharing Namibia with us!

Apr 13, 2017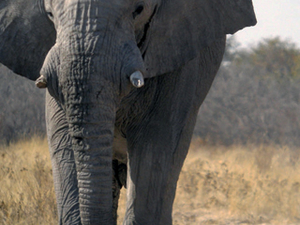 sponsored
sponsored