About owner
Marcel Vosloo
Rank: 5665
Joined: March 2017
Currently the first Travel Agent in Namibia combing Yoga on Safari and would like to share this…
35 yrs, Female

Business Owner/Tour Agency

2 weeks ago in Tsumeb, Oshikoto, Namibia
About
707

,

Outjo

,

9000

,

Namibia
Namaste Yoga Safari offers you several unique ways to enjoy the soul of Africa and explore its diverse wonders. Whether you are in search of adventure or transformation, choosing one of our retreats will surely be for you. Our yoga retreats combine mindfulness, restoration, renewal, relaxation, self-reflection, and inspiration.

We provide professional services with experienced yoga teachers and hosts, local knowledge and resources, working in the design and implementation of yoga retreat organizations, activities, tours, transportation and program logistics. Offering scheduled and tailor-made retreats with daily yoga, meditation, wildlife game viewing and adventure-filled days in prime locations.

We welcome all levels of experience, from beginners to advance, all ages and backgrounds. Our groups are small which allows personal attention, tailoring to your personal needs.ARE YOU READY TO EXPERIENCE YOGA IN THE COUNTRY THAT WILL FEED YOUR SOUL With a country as diverse as Namibia, visitors can easily find themselves overwhelmed by it all.

The vastness and beauty of the Namibian landscape and wildlife is a place that is inspirational and that gets into your soul, bringing peace, stillness, and healing to your spirit. A place with so much energy and magic needs to be experienced, especially when you combine it with yoga. Practicing yoga outdoors can have a tremendous effect on one's well-being and it is an incredible way of connecting Mind, Body and Soul - Yoga, nature and animal lovers looking to get in touch with their inner self will appreciate our retreats.
No Reviews or References Yet!
Do you know this member?
If you have taken a trip or used their services we recommend you give a reference whether its positive or negative. This will help everyone on Touristlink make better choices and will help providers to make improvements based on your feedback.
sponsored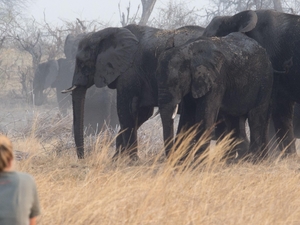 sponsored