https://www.touristlink.com/communities/touristlink-forum/safaris-tanzania-3-days-2-night-serengeti-ngorongoro-crater.html
Safaris Tanzania 3 Days 2 Night Serengeti & Ngorongoro Crater 30 April To @ May
Deals by:
Dodo
, 5 months ago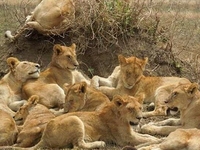 Serengeti National Park has emerged as a major traveller and tourist destination, many making the journey there to engage in safari. The name…
Helow everyone
We are looking for people to join our clients for safaris 3 days 2 nights camping Serengeti National park and Ngorongoro Crater on 30th April to 2rd May.
The Safari will start from Moshi/Arusha Early Morning.
The price is $900 USD Per person per trip including everything except Tips for driver guide and cook.
For booking please Contact
Email- info@dodogrouptz.com
Call/Whatsapp +255754537513
www.dodogrouptz.com