https://www.touristlink.com/communities/touristlink-forum/best-kenya-national-parks.html
Best Of Kenya National Parks
Deals by:
Kenia
, 6 months ago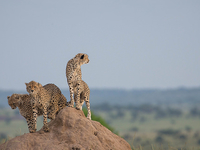 Day 1 Nairobi/ Masai Mara Depart Nairobi at 08.30 hrs after pick up from your hotel for Masai Mara Game Reserve. Passing via the Great…
Day 1 Nairobi/Masai Mara
Depart Nairobi at 08.30 hrs for Masai Mara Game Reserve. Lunch to be served at Masai Mara. Game viewing in the afternoon.
Day 2 Masai Mara
Full day is spent exploring this unique park which really forms the northern part of the famous Serengeti National Park. Meals and overnight at the camp.
Day 3 Masai Mara
A visit to the Masai Village. (Optional) Full day game viewing.
Day 4 Masai Mara/Nakuru
Before breakfast proceed for a short game drive. Depart for Lake Nakuru late morning. Picnic lunch en route. Arrive Nakuru town late afternoon and check in at a lodge in Nakuru town. Meals and overnight at the lodge.
If interested for such packages and many others that can be tailored to your requirments kindly email us on kenia@africaonline.co.ke
Day 5 Nakuru/Nairobi
After breakfast proceed for game drive to Lake Nakuru National Park. Lake Nakuru is world renowned for its masses of flamingoes and is often referred to as the "PINK LAKE'. Besides birds, it is possible to see small game like water buck, impala, buffalo and rhino. Return to lodge at 12 noon for picnic lunch then depart for Nairobi arriving in the afternoon.