https://www.touristlink.com/communities/touristlink-forum/about-kenia-tours-safaris-ltd.html
About Kenia Tours & Safaris Ltd
Deals by:
Kenia
, 6 months ago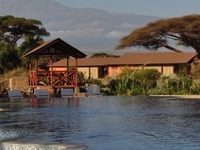 Places of Interest : Masai Mara Game Reserve, Naivasha, Amboseli national park, Nairobi. What you are likely to see : The Big five(Lion…
Welcome to Kenia Tours & Safaris Ltd.
KENIA TOURS & SAFARIS LTD has been in this industry for over 20 years, specialising in camping and lodge safaris; the main focus being on the provision of the full range of tour options available in Kenya .
Kenia Tours will take you through an unforgettable adventure to see the Elephant, the Lion, the Rhino, the Leopard, the Zebra and other plains game found in the Masai Mara, Amboseli, Samburu and Tsavo. Other fauna will include the PINK LAKES of Nakuru and Elementaita famous for the millions of Flamingoes, besides Baringo for boat rides.
We will drive you through the Kikuyu farmlands to the snowcapped Mount Kenya on the Equator. A tour of Nairobi City will take you to the National Museum , Snake Park , Animal Orphanage, Ostrich Farm and Karen Blixen Museum (of the "Out of Africa" film fame).
At the Kenyan coast, you will sunbathe on the white sandy beaches and enjoy ocean sports including deep sea fishing.
Other tour packages available include Mountain Climbing, Golfing Safaris, Lodge Safaris, Camel Safaris, Beach Holidays and Tanzania Safaris.
These adventures are an excellent value for your money. Most of the travelling is in luxurious safari minibuses or four-wheel drive vehicles where one is guaranteed a windowseat.
For all enquiries email us at Kenia@africaonline.co.ke or Keniatours@yahoo.co.uk