Binod Simkhada
Dhading,fulkharka,
Travel Agent
Meet Locals and Find Travel Companions
Sign Up
Pheriche lies downstream from the terminal moraine of the
Khumbu Glacier
and the houses and lodges are scattered about where the Khumbu makes a turn to the south. Guest houses include the Himalayan Hotel and the
Panorama
Eco lodge. The White Yak Mountain Hut has 24 hour hot water. International calls can be made from the Snowland lodge.The Himalayan Rescue Association runs an a clinic helping trekkers and mountain climbers with symptoms of AMS and a doctor can often be consulted during the busy seasons if need be.
Travel Deals Around Pheriche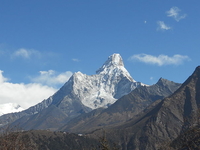 Are you a tour guide? List a trip.