Binod Simkhada
Dhading,fulkharka,
Travel Agent
Meet Locals and Find Travel Companions
Sign Up
Namche Bazaar also Nemche Bazaar or Namche Baza is a village and Village Development Committee (Namche) in Solukhumbu District in the Sagarmatha Zone of north-eastern
Nepal
. It is located within the Khumbu area at 3,440 metres (11,286 ft) (the low point that is), populating the sides of a hill. Namche is the main trading center for the Khumbu region with many Nepalese officials, a police check, post and a bank. At the time of the 2001 Nepal census it had a population of 1647 people residing in 397 individual households.
Travel Deals Around Namche Bazaar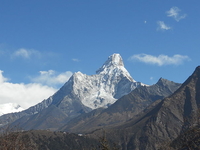 Are you a tour guide? List a trip.