Binod Simkhada
Dhading,fulkharka,
Travel Agent
Meet Locals and Find Travel Companions
Sign Up
Ama Dablam is a mountain in the
Himalaya
range of eastern
Nepal
. The main peak is 6,812 metres (22,349 ft), the lower western peak is 5,563 metres (18,251 ft). Ama Dablam means "Mother's necklace"; the long ridges on each side like the arms of a mother (ama) protecting her child, and the hanging glacier thought of as the dablam, the traditional double-pendant containing pictures of the gods, worn by Sherpa women. For several days, Ama Dablam dominates the eastern sky for anyone trekking to Mount Everest basecamp.
Ama Dablam was first climbed on 13 March 1961 by Mike Gill (NZ), Barry Bishop (USA), Mike Ward (UK) and Wally Romanes (NZ) via the Southwest Ridge. They were well-acclimatised to altitude, having wintered over at 5800 metres near the base of the peak as part of the Silver Hut Scientific Expedition of 1960-61, led by Sir Edmund Hillary.
Travel Deals Around Ama Dablam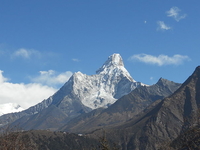 Are you a tour guide? List a trip.