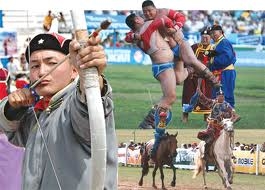 Welcome to Mongolia during Naadam festival, Mongolian National Holiday. We can offer 12 days tours including Naadam festival, to you. We will arrange all things to you. You will enjoy Mongolian National Naadam festival as well as experience…
for only:
The Great Naadam Festival Tour: Mongolia Travel
The Naadam festival is the one of the TOP 10 festivals of the world. Mongolian Naadam Festival originates from Hunnu era (209BC) and has come to our time through centuries. It consists of the 3 Games of Men, namely, archery, wrestling…
Khuvsgul Lake or Blue Pearl Tour
You will experience with reindeer people's life and explore beautiful nature of North Mongolia. You will enjoy high peaked mountain and fresh crystal water of Khuvsgul lake known as Blue pearl.